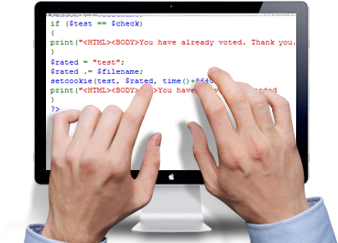 SWS is specialized in the domain of web applications. Web programming applications designate those applications used independently from the operating system in place.

In creating these applications, we use the latest editions of programming languages and technologies to provide advanced solutions and software that resemble desktop applications in terms of performance and appearance.
Application Features:
This type of applications offers the following features:
Can work in an independent work environment (as noted earlier, web applications work independently from the operating system used).
Does not require installation user systems.
Does not require prior setup on user systems.
Makes program updates easy to implement without any action by the user.
Can be accessed and used from any location.
Offers programs that can be used 24/7.
Centralizes data, which is considered more secure and easier for backup operations.
Enables maintenance operations without the need for presence in the location.
Has a lower cost compared to conventional applications.
We also care to make these applications user-friendly by adopting simple interfaces resembling the most widely used Microsoft Windows structure.

Web programming applications are witnessing rapid global expansion, particularly with growing internet access and the development of infrastructure to support it, and have seized a considerable usage share compared to conventional applications.
Web technologies:
(X)HTML
CSS
XML
PHP
JavaScript
AJAX
MySQL Database
Flash
ActionScript
Career
Secure and optimal environment for work and innovation in our offices.