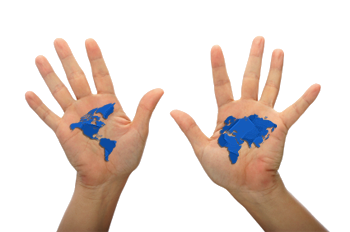 Why outsource?
For an industry as fast-paced and competitive as ours, it can be virtually impossible for web design firms to meet market demand in-house. Companies operating in advanced markets are pressured to develop applications cost-effectively at a rapid rate without compromising on quality and resources.

For many, outsourcing has become a must. The web design and development process is around 90% html coding and web programming, a time-consuming activity that can easily be outsourced, freeing your team to focus on strategy and innovation.
Why Syria?
Syria is an ideal outsource choice for European and Arab companies.
Industry rates in Syria are lower than those in Europe and the Arab Gulf, thus offering more value for money on every project.
Syria offers a talented, educated, and hard-working young workforce, from engineers and designers to creative thinkers and marketing executives.
Syria's time zone allows for smooth daytime communication with other Arab World and European countries.

Why SWS?
SWS is a proven provider of outsource services for offshore companies. If you're looking for an outsource company that fully understands your vision, you can rely on us to approach assigned projects through your eyes.
Our solutions are prompt and highly responsive. By leveraging our expertise and efficiency to your needs, you attain desired results at lower rates.
Our experience in remote dealing and our multicultural knowhow enable us to understand your needs easily and accurately.
We do not request to be credited for outsourced work. So we happily do the work while you get the credit.
To find out how our outsourcing services and solutions can save you time and money, please contact us.
Career
Secure and optimal environment for work and innovation in our offices.